Thanks chaps - Well I think they got something wrong. According to the literature I've red the Plauen badge was worn and thats red! The Crew 28 is this badge and its not the same shield shape as the one in the series?
According to two websites these are the badges worn and the first one is Plauen: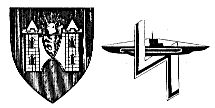 So goodness knows what the blue one was supposed to be!
Unless they went for the old badge which is grey background but then why have the red badge on the conning tower!:
_________________
Military Helmet & Hat Replication & Refurbishment.
Now Available
-
WW2 Airborne Crickets:
http://www.airborne-cricket.com/
Now Available
-
WW2 Whistles:
http://www.warwhistles.com/
WANTED - M1 Inland helmet Liners any condition- Good Prices Paid!